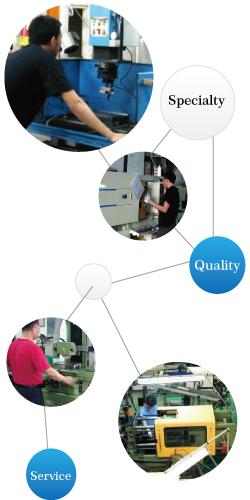 We "Chang Sung Enterprise Co., Ltd. " is specialized in bakelite, BMC,Urea,Melamine resin, combined materials (thermosetting plastics) and thermoplastic materials such as (ABS, PBT, PC, NY/ON...etc. precision injection and high speed rubber hydraulic molding manufacturing,---- high precision machining----, designing and producing lathe and metal stamping parts.---mold designing and fabricating--- precesion bakelite, plastics, castting, injection molds designed and produced. We serve hundred of the bussiness in electronics, electric machinery ,I.T, automobiles industry, hardwares and home appliances for their needs of insulations heat-proof materials parts. In order to offer more competitive and better quality  to serve our customers, our company freqently update the facility and progessively training professional staffs to design and produce for our customers.
Welcome ODM, OEM. We take orders for designing and manufacturing switches,plugs, sockets,fuses, electionic machinery parts , and autoparts .

1981 established     
1988 established "Chang Sung Enterprise Co., Ltd "
1990 established molding department    
1993 established "Chang Song Plastics Co., Ltd."